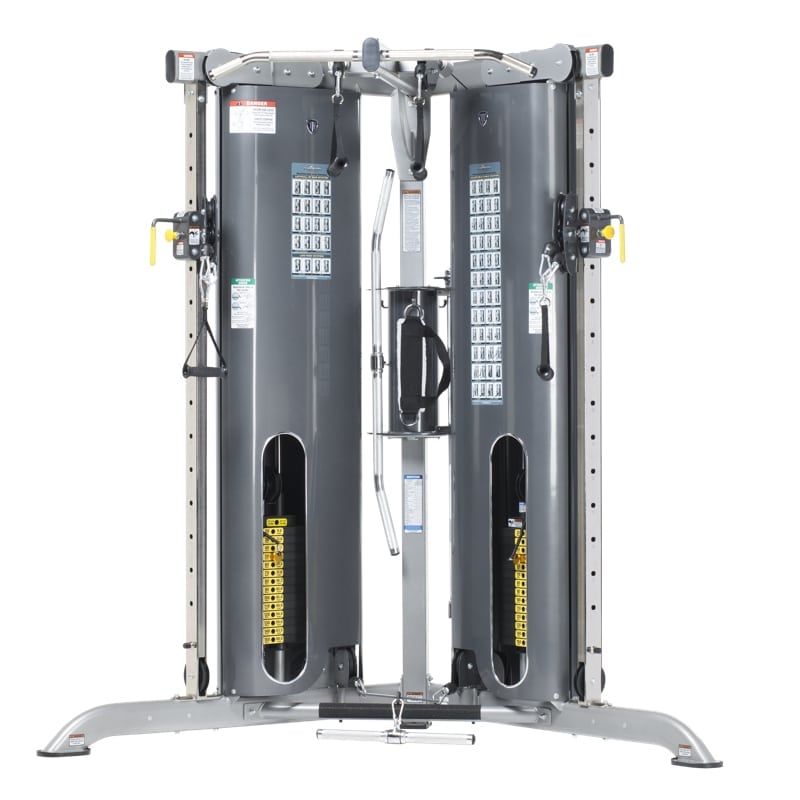 KEY FEATURES:
TuffStuff's Evolution Series includes a Corner Multi-Functional Trainer (CXT-200). The CXT-200 features a fully adjustable high/low pulley system with swivel rotating handles, as
well as fixed Lat and Low Row stations. The wide base of the CXT-200 frame is easily accessible for wheelchairs, rehabilitation equipment, workout benches and stability balls.
Three separate cable stations offering unlimited exercise options

Space saving and compact footprint, designed to fit in a corner

Combination dual adjustable cable stations with quick change trigger style adjustments

Includes Fixed Lat and Low Row cable stations

Solid steel rotating accessory storage rack for lat bar, low row bar, squat bar, nylon handles, ankle strap and cable bridge bracket.

Includes two 150 lbs steel weight stacks (optional upgrade to 200 lbs)
CXT200 OPTIONS:
Weight

740 lbs

Dimensions

44 × 79 × 84 in

Home Lifetime Warranty

HOME LIFETIME WARRANTY*
Lifetime on everything to the original purchaser when used only in a HOME environment, applies to defects from manufacturer only.
*See Owner's Manual for details.

Light Commercial Warranty

LIGHT COMMERCIAL WARRANTY

10 YEARS: Structural main frames, welds, cams and weight plates.
5 YEARS: Pivot bearings, pulleys, bushings, guide rods and gas shocks.
1 YEAR: Cables, linear bearings and pull-pin components.
6 MONTHS: Upholstery, finish and rubber grips.
ALL OTHER PARTS not mentioned, one year from the date of purchase to the original purchaser.

Light Commercial Use: Light Commercial warranty applies only to facilities like hotels, apartment complexes, personal training studios, fire & police stations, etc. where the equipment would be used by no more than 30 people per day.

Weight Stacks

Two (2) 150 lbs. steel weight stacks (optional 200 lbs.)

Frame

2 x 3" 11-gauge oval tubular steel frames with a combination of 2 x 2" round tubing.

All welded construction conforming to Structural Welding Code-Steel Standards and Specifications.

All frame bolts and nuts are 3/8" and 1/2" zinc oxide. Meets ANSI specifications.

Cables

3/16" and 1/8" USA-Made/Certified EXERFLEX PRO® high performance fitness cable.

Finish

Powder coat finish – Platinum Sparkle main frame and Cathedral Gray weight stack protective shields.

Other Specs

3/4" solid steel 1045 (tgp) hard chrome finish.guide rods.

1/2" push-pull spring loaded solid steel adjustment pins with ultimate load of 9040 lbs. and 46042 psi sheer strength.

All primary and secondary pivot assemblies are non-friction 2" sealed bearings and 1" solid steel pivot axles.

TuffStuff's proprietary "flat-groove" 4-1/2" and 3-1/2" fiberglass-impregnated nylon pulleys with sealed roller bearings.